Jenny Beeken "The Nature of Breathing" Book Launch
2nd March 2022 @ 7:30 pm

-

8:30 pm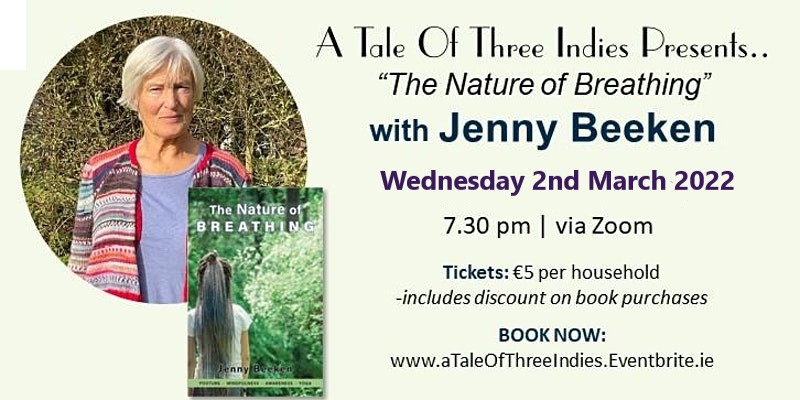 Join A Tale of Three Indies for a special online event with Jenny Beeken.
A healthy lifestyle means breathing well – something very few people succeed in doing. It's the new frontier for our health.
To breathe well only means not to obstruct the natural processes, for we are born to breathe well! Breathing through the nose is now understood to be vital, along with a posture that allows good breathing. We just forget how to breathe, in the midst of our busy lives. THE NATURE OF BREATHING reminds us very simply of what we knew already.
The yoga principle of pranayama is explored in detail, and yoga postures that assist in good breathing make this an excellent book for correcting our habits.
In our post-pandemic world understanding the breath has a whole new relevance. The book also covers anatomy, chanting, and meditation or mindfulness.
Jenny Beeken is the author of five books for Polair on yoga and related topics, including an earlier book on breathing DON'T HOLD YOUR BREATH (2006), which this book replaces. She read physics at university before finding that her path lay with yoga. She trained in India under B K S Iyengar and became principal yoga teacher at the White Eagle Lodge. Later she founded her own school, known as Inner Yoga. Recently she went on an extended Buddhist retreat at the Theravada monastery at Chithurst, West Sussex, and the increase in her vision is visible in the book. She now lives in West Wales.